>
Bringing
Neuro-Rehab

To Your Home
---
Motus self-guided and easy to use robots make stroke recovery at home fun, interactive and engaging. They have been designed to be used independently by stroke survivors without the need of a caretaker. 82% of users have reported improvement in function after using our robots.
Motus Hand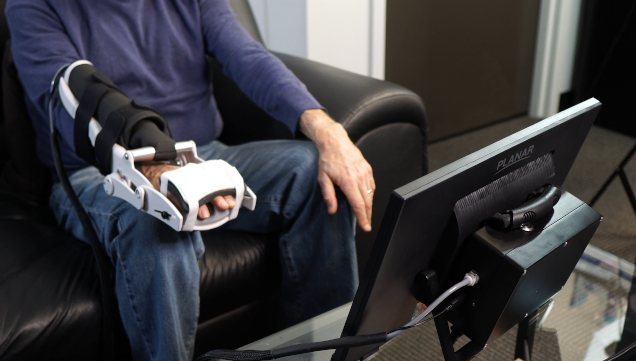 $399/mo
Includes:
Console
Peripheral
Digital Therapist
Personalized Reports
24/7 Technical Support
Software Updates
Motus Foot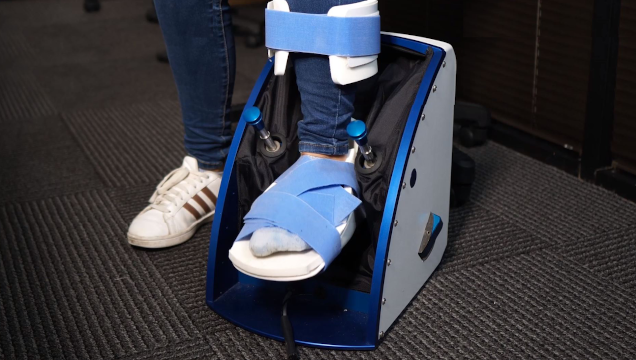 $699/mo
Includes:
Console
Peripheral
Digital Therapist
Personalized Reports
24/7 Technical Support
Software Updates
Frequently Asked Questions
The cost of the Motus Hand is $399/month and the cost of the Foot Mentor is $699/month. Each subscription includes a 22 inch touchscreen monitor, technical and clinical support, software updates, personalized reports, and personalized therapy. If you do an hour of rehab/day, your cost is only $13/hour of therapy! The Motus Hand and Foot are tools to help you get more hours of clinic equivalent therapy at a lower cost than going to the clinic every day.
Call 404-939-3476 to speak to one of our clinical specialists, or sign up directly through our website at https://motusnova.com/trial/. Then, your Motus Hand or Foot will arrive in the mail with instructions, and you can get started with therapy at home within 5 minutes. It's really as easy as that. There are no hidden steps or costs.
Every stroke is different. The Motus Hand and Foot have helped a large range of stroke survivors from those with no movement to those with lots of movement, from those a few weeks after a stroke to those who are more than a decade post-stroke, and we have helped a wide range of ages from 5 to 97. For more information you may call us at 404-939-3476 to be evaluated by one of our clinical specialists, or fill out the assessment below and one of our team members will reach out to you within the next 24 hours!
Nope! As soon as you have reached your goals, you get to return it (i.e. no long-term commitment). Our goal is to get you back to doing your daily tasks without the Motus Hand or Motus Foot.
In your own home! Once you sign up and receive your Motus Hand or Foot, you'll have 10 days to try it out to see if it works for you. If so, great! If not, just give us a call at (844) 668-8766 and fill out our refund request form to start your return and initiate a full refund for the subscription.
Telehealth with the Motus Hand and Foot is covered by insurance, and a great way to connect 1-1 with a therapist to enhance your rehab experience. We also have various programs that can help cover the cost of the Motus Hand and Foot. Find out if you qualify by speaking to one of our clinical specialists at 404-939-3476.
82% of our users have reported an improvement in function after a few months of use during the our clinical trials. The Motus Hand and Foot are Class 1 FDA approved and have a decades worth of clinical studies to prove their effectiveness. Clinical studies at the Emory and VA hospitals showed that when 50 stroke survivors used the Motus Hand and another 50 did therapy with a therapist, both groups had equivalent outcomes in recovery after 3 months.
There are 3 quick steps to get started. Once you receive the Motus Hand or Foot there will be instructions that teach you how to turn on the device. Then, a series of videos will teach you how to put on and use the Motus Hand or Foot. Finally, you press "Begin Therapy" and get started right away. The best part is that you don't need someone to teach you because it is designed for stroke survivors, but if you have any questions or run into issues we will be available to help via phone or video call to sure everything is working and most importantly make sure you how to use the Motus Hand or Foot.
Our robotic devices are complex machines and expensive to produce. Hundreds of clinics and hospitals all over the US have purchased the Motus Hand and Motus Foot devices for $20,000. We offer a subscription service for home users starting at $399/month as part of Motus Nova's mission to increase accessibility to rehabilitation.
We typically only ship within the US, but will make exceptions on a case by case basis. Send us an email to sales@motusnova.com to learn more abuout this option.
Engineering a $20,000 hospital rehab robot to be portable and affordable for the home.
2013
Motus Nova Founded
On a mission to deliver neuro-rehab in every home through robotic exoskeletons guided by AI.
2016
A Decade of Clinical Trials
Designed to speed up stroke recovery by increasing the number of repetitions in a rehab session, clinical studies proved Motus robots can deliver clinical level of care.
Clinical Studies
2017
About 200 nationwide clinic deployments for Hand & Foot Mentor Pro
Motus introduced the first iteration of robots called The Motus Hand & Foot Mentor Pro. They were built specifically for hospitals and cost over $20,000.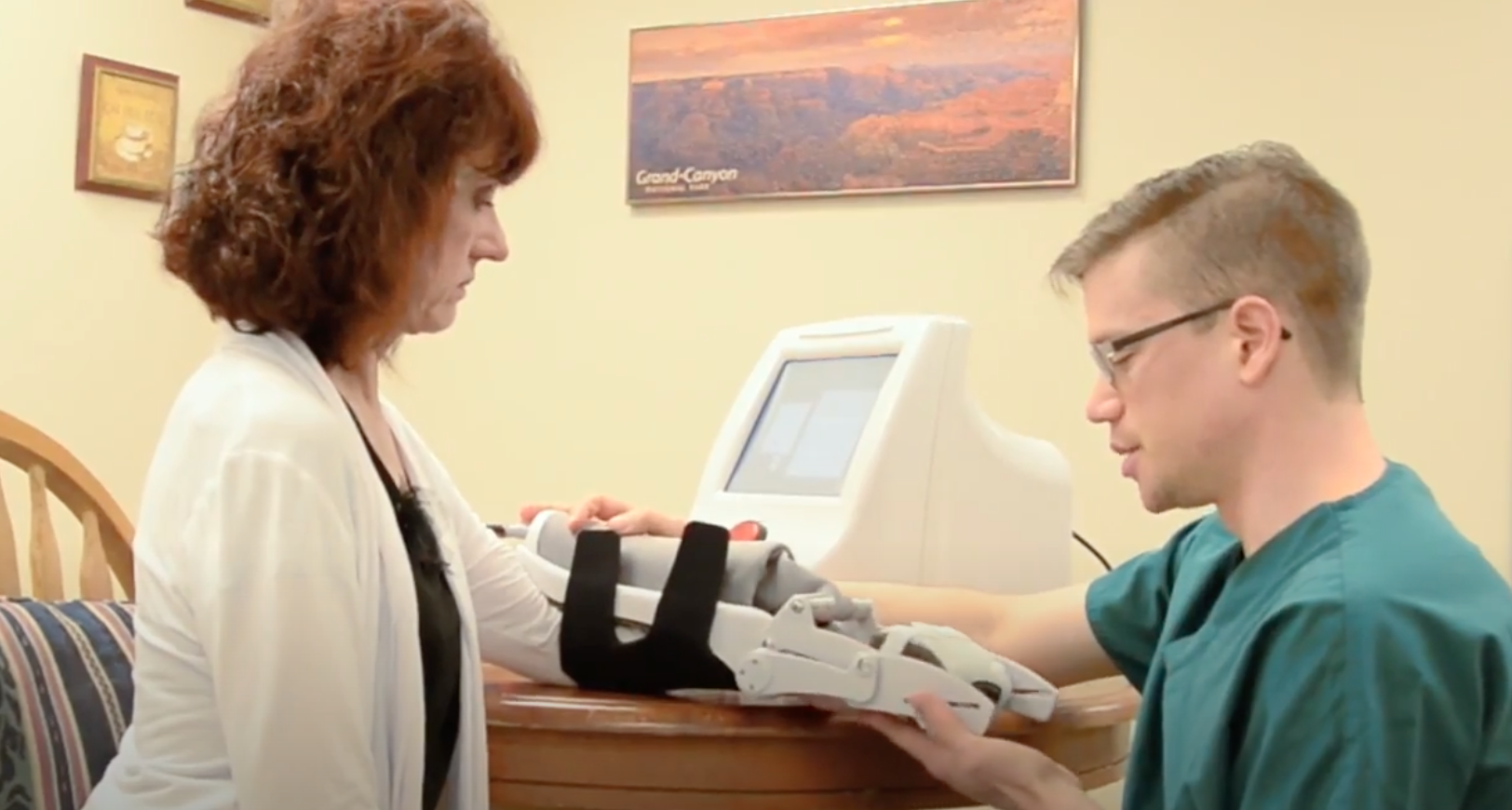 2018
Launched Research & Development to bring Motus into the Home
The hospital setting limited user access to 2 hours per week. For survivors to benefit from the robots, they needed to use them on a daily basis. The only way to make this possible was to bring Motus robots into the home.
We spent 2 years engineering the device with two goals in mind:
Independent use:

Program an AI trained to be a digital therapist
Costs Reduction:

Bring the monthly cost down to $399 per month
2018
Why $399 per month? Matching the average price of out-patient rehabilitation.
The average out-of-pocket cost per hour of outpatient neuro rehab is $50 per session plus the cost of time and transoprtation.
With two outpatient visits per week, this is about $430 for 8.6 hours of rehab per month for the average stroke survivor
Average Motus users complete 30-50+ hours of rehab per month.
By bringing the cost of Motus robots down to $399, we can reduce the cost of rehab from $100/hr to $10/hr.
2019
Voted Most Innnovative Tech Company of 2019 by the Technology Association of Gerogia
The Technology Association of Georgia, one of the country's largest technology associations with 30,000+ members, recognized Motus Nova for its innovative applications of gaming to healthcare, financial impact, and likelihood to succeed.
See Full Story
2020
Launched Motus Hand and Motus Foot for the Home
By 2020 we began shipping out the first at home models for the Motus Hand & Motus Foot, increasing access to rehab and providing up to 10 times more rehab for the same price as your current outpatient therapy.