Meet Maddi Niebanck, a 25 year old author, social media influencer, motivational blogger, and stroke survivor. During her journey to recovery, Maddi has successfully published two books. In her most recent book, Fast Fwd: The Fully Recovered Mindset, Maddi shares her personal experience with stroke recovery, and the strategies she has adopted to remain committed to rehab. Maddi also has a blog of her own where she highlights her travel experiences, hobbies, and how she remains connected with her family and friends amongst the pandemic. Through social media, Maddi finds unique ways to share her recovery progress while spreading positivity and encouragement to other stroke survivors. Despite having to cope with the difficulties of stroke at a young age, Maddi continues to demonstrate reliance through adversity.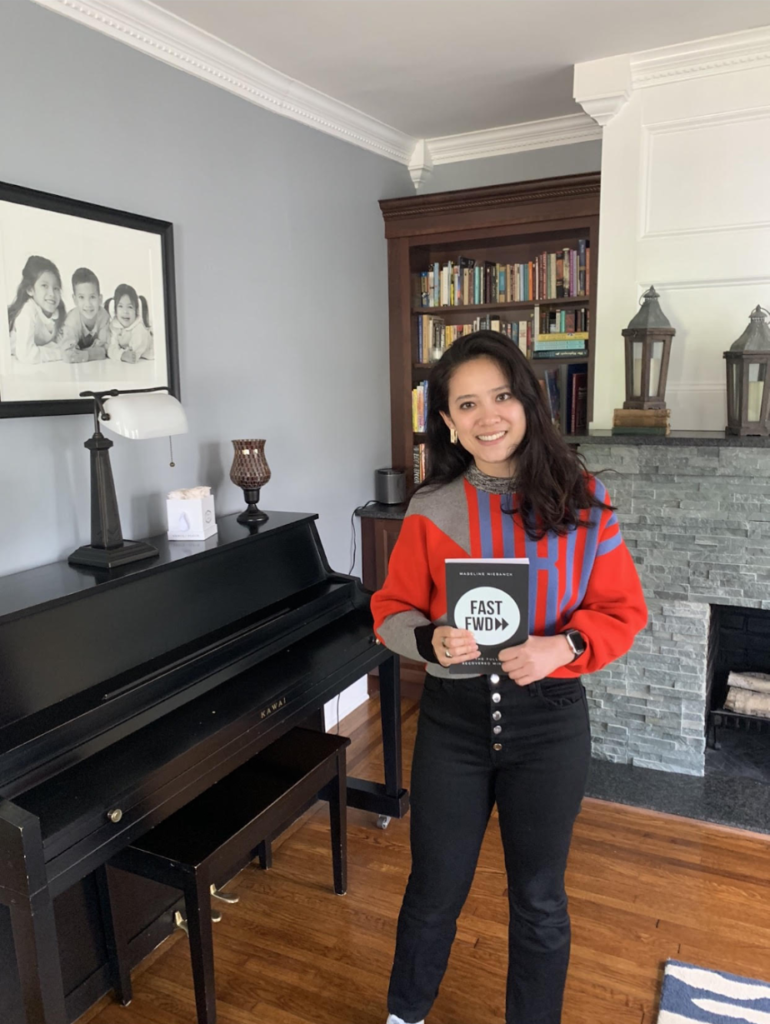 Q&A With Maddi
Can you talk a little bit about your stroke?
I had a hemorrhagic stroke in the right occipital lobe when I was 22, so a little over three years ago. When I woke up from an emergency brain surgery, I was completely paralyzed on the left side of my body. So, I had to learn how to walk, sit in a wheelchair, and use a cane. Now I can walk without a cane but my arm and my hand are a little slower to progress.
How has your lifestyle changed after the stroke?
I think the biggest thing I noticed is my lack of independence. After I had my stroke, I moved back in with my parents in New Jersey, and I have been with them ever since. I'm still not yet at a place where I am confident I can live independently and not need any help.
Do you have any goals that you are currently working towards? 
I can put my hair up in a bun with two hands, but it is very low. I am trying to get to a point where I can put my hair up in a bun that is really high on my head.
Have there been any barriers towards your ability to engage in therapy? 
I can't drive because I suffered a huge loss of my peripheral vision on my left side. So, it is not safe for me to drive until my spatial awareness is much better. One thing I've realized is every plan I make has to be well thought out and coordinated. I need to plan that I need to take the train and think how much time I need to allot for that to get to my office.
Has the pandemic affected your ability to continue therapy?
Prior to us having the quarantine, I was supposed to return to Birmingham, Alabama for a special constraint induced therapy program which I was really excited about. But then the coronavirus happened, and they said they were not going to have the program. In March and April my outpatient rehab center wasn't even open. So, then I had to think about what I could do instead to really work on my therapy.
How did you hear about Motus Nova?
I've been trying to make the most of my time during quarantine to do some arm exercises. I have a ton of exercises that I can work on by myself but sometimes those can get a little stale and I need something else. And then Motus Nova reached out and I have been doing sessions and that has been very helpful in getting me to use my hand and my arm.
What features do you like about the Hand Mentor?
One thing I do love to do after each session is I love to generate a report so I can see how many repetitions I've done. The longer I stick with it and the more repetitions I do, the easier it is going to get.
How has your experience been with Motus Nova's Telehealth Therapy?
The telehealth sessions are awesome. I feel like for it being virtual, they are going really well. My Motus Nova telehealth therapist came up with a modified constraint induced therapy program for me.  My therapist will give me non-Hand Mentor exercises, and then he can see how I am doing in the camera. So, it is really cool that therapists who aren't even here with me can help me come up with new challenging exercises and help me work on the skills that I want to develop. He gives me pointers and tips to get better at it, and we will also do games on the Hand Mentor.
What motivates you to continue therapy?
What motivates me is all of the amazing other stroke patients that I have met. My friends in the stroke and brain injury community motivate me every day and inspire me. They give me reason to keep working because I know we are all in this together.
Maddi empowers us all to persevere through times of difficulty with a positive attitude and a smile. Be sure to follow Maddi on Instagram and visit her website to order her new book and learn about the strides she is making on her recovery journey.
To learn more about Motus Nova and the Hand Mentor, contact us today at 404-738-5355.